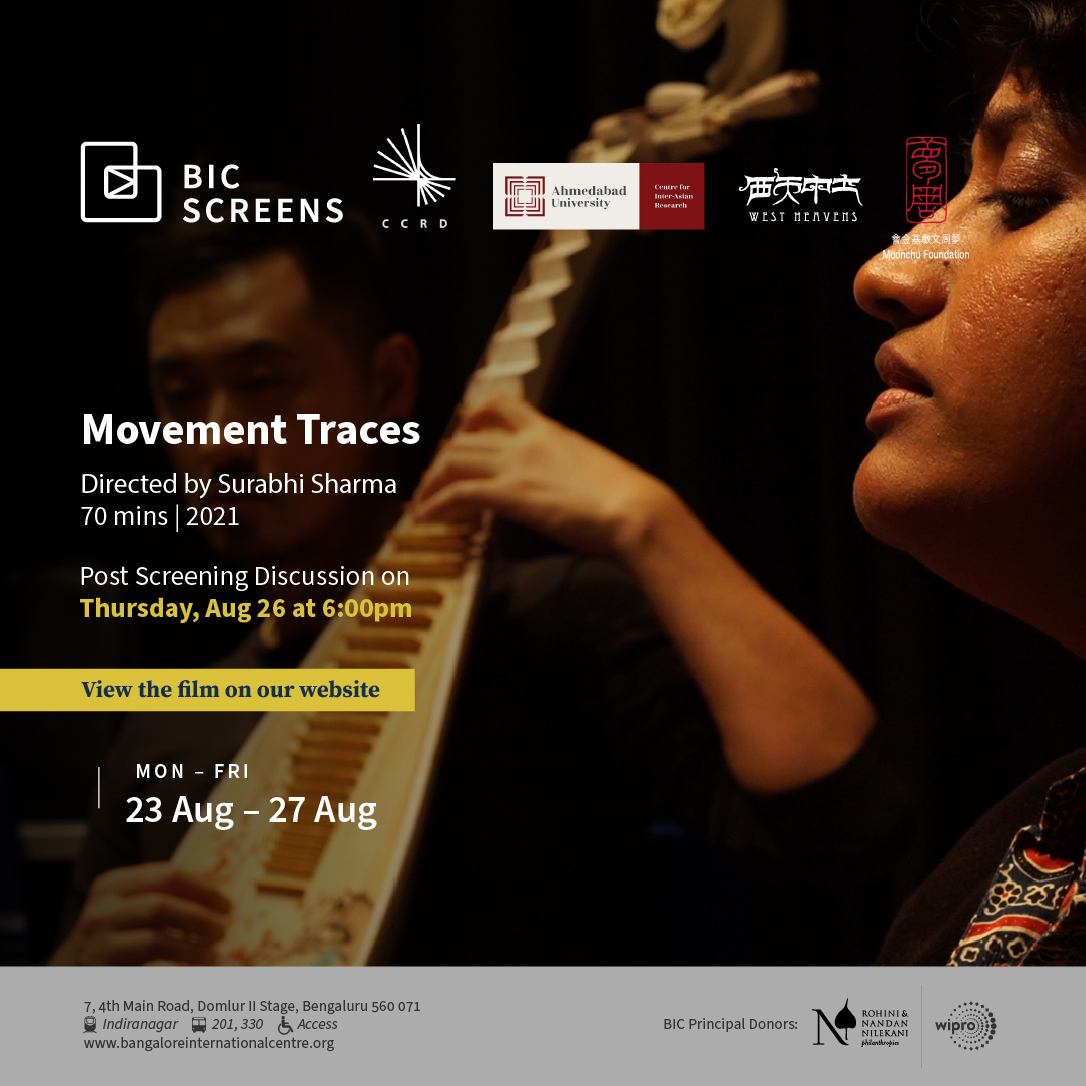 Bangalore International Centre
August 26, 2021.
Cultural exchange and experimentation in music across the borders of east and south Asia date back to the time of Tang Dynasty in seventh century China. Encounters in medieval port cities generated conversations in and of music. These relations in history however are hard to trace today. In the absence of a shared language can music explore and express ideas, emotions, histories? Music Across the Waters: The Saath-Saath Project brought together musicians and scholars from India and China over a period of four years. This film follows their conversations set in studios, galleries and rehearsal rooms away from the hubbub of bazaars and streets.
These black/white box settings stage the meetings that unfold through silences, through listening, through tones and notes. Using both transcribed text of actual conversations and re-inscribed text of things left unsaid Movement Traces re-assembles a collaborative process of crossing boundaries and making music.
A film by Surabhi Sharma
In collaboration with Omkar Havaldar, Rutuja Lad, Bindhumalini, Zhe Lai, Zhang Yi, Kimho Ip, Chow Yiu-Fai and Tejaswini Niranjana
Produced by Tejaswini Niranjana, The Saath-Saath Project
Post-Screening Discussion
Date: 26 Aug 2021 (Thu)
Time: 6 pm (GMT+5:30 Bangalore) / 8:30 pm (GMT+8 HK)
Speakers: Tejaswini Niranjana (Curator & Producer), Surabhi Sharma (Director)
Interlocutor:  Chang Qu