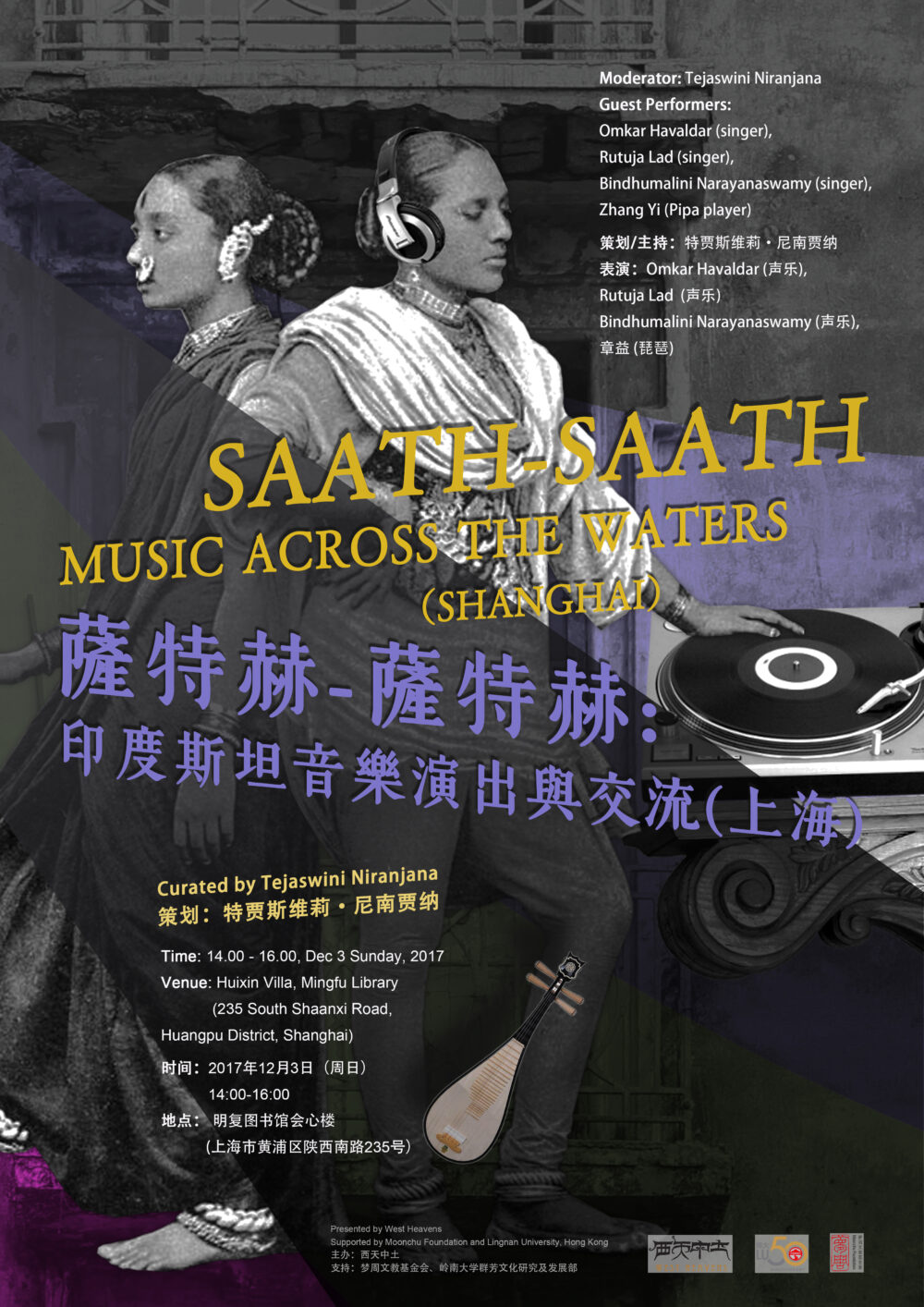 Mingfu Library, Huangpu, Shanghai.
December 3, 2017.
SAATH-SAATH: MUSIC ACROSS THE WATERS(Shanghai)
萨特赫-萨特赫:印度斯坦音乐演出与交流(上海)
时间:2017年12月3日(周日) 14:00-16:00
地点: 明复图书馆会心楼(上海市黄浦区陕西南路235号)
策划/主持:特贾斯维莉·尼南贾纳
表演:Omkar Havaldar(声乐), Rutuja Lad(声乐), Bindhumalini Narayanaswamy(声乐), 章益(琵琶)
主办:西天中土
支持:梦周文教基金会、岭南大学群芳文化研究及发展部
Time: 14.00 - 16.00, Dec 3 Sunday, 2017
Venue: Huixin Villa, Mingfu Library (235 South Shaanxi Road, Huangpu District, Shanghai)
Moderator: Tejaswini Niranjana
Guest Performers: Omkar Havaldar (singer), Rutuja Lad (singer), Bindhumalini Narayanaswamy (singer), Zhang Yi (Pipa player)
Presented by West Heavens
Supported by Moonchu Foundation and Lingnan University, Hong Kong
This unusual concert features three singers from India, and a pipa player from China. The singers will demonstrate the main genres of Hindustani classical music and perform compositions in different ragas or melodic forms. The pipa player will engage in a musical jugalbandi or dialogue with the singers, invoking strains of Indian music through the Chinese instrument.
本次非同寻常的音乐会聚焦三位来自印度的声乐艺术家和一位来自中国的琵琶演奏家。声乐艺术家将展示印度斯坦古典音乐的主要风格并表演不同拉格(raaga)或旋律形式的组合。琵琶演奏家将参与到一次音乐的二重奏(jugalbandi)或同歌者的对话中,用中国乐器唤起印度音乐的应变。
Saath-Saath means to do things together.
萨特赫-萨特赫(Saath-Saath)的意思是一起做事。